PWM-60/90 Series 60/90W DALI Dimming function LED Driver




About two years ago, MEAN WELL decided to extend DALI function to the current PWM style output LED Driver — PWM-120 series, which led to a wide and huge positive feedback from the market. To further satisfy customers' demands, the DALI function is added to the current PWM-60/90 series, through which, we believe broader applications can be covered.

PWM series is a PWM(Pulse Width Modulation) design with constant voltage output product which can operate with the regular LED soft strip for decoration application and further for any DC input luminaires. The whole series design with 3 in 1 or DALI dimming function can dim LED strip without extra PWM controller, reducing the total installation cost. It is a perfect fit for indoor decoration and commercial application. In addition, the DALI function follows the IEC 62386-101/102 and 207 regulations; it can operate with all DALI certify dimmer or controller.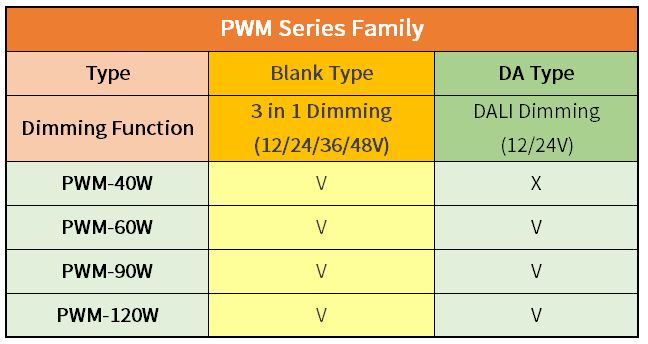 Constant voltage PWM style output.
Plastic housing with Class II/Class 2(60W/90W) design.
Built-in active PFC function and meet IEC61347 regulation.
Fully encapsulated with IP67 level
Dimming functions: 3 in 1 dimming (dim-to-off) or DALI.
Protection functions: OVP,SCP ,OLP,OTP.
5 years warranty